11th Photo Trek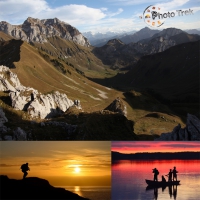 The 11th Photo Trek will take place on the iszlands of Hoedic and Houat from 1st to 4th of November 2018.
The last preparation trip takes place on September 20 and 21, 2018.
The registration form will be on the site a few days later.
For this 11th edition, we will continue in the footsteps of the previous Photo Trek ... New images will be made to be broadcast, as in November 2017, prime time on France 2. Reports will also be made on France Info and selections of rushes will be made for the editorial staff of TF1 (editions of WE). This channel broadcasted several reports about the events of Cap Nord Organization (13h newspapers and magazines).
The 12th edition of the Photo Trek will take place again in the Auvergne-Rhône-Alpes Region. Many beautiful territories remain to discover!
See you soon on the most beautiful trails in France !!