13th Photo Trek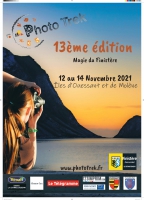 Hello everyone,
The 13th Photo Trek went perfectly well from November 12 to 14, 2021 on one of the paradises of our hexagon: the islands of Ouessant and Molène, in Finistère !!! We were a total of more than fifty people from 18 French departments and Belgium. The participants were between 4 and 70 years old and all were fully involved in this beautiful hiking-photographic adventure. We benefited from reports on the 8 p.m. newspaper of TF1 (team on site), France Inter, France Bleu in national and Le Télégramme (official partnership). See our links on the "Media" page of this site.

Thank you all and see you soon !!!

The small, passionate team of Cap Nord Organization.